Here are 20 Tips to Help Make Your Wedding Day Go Smoothly
Your wedding is fast approaching. Everything seems to be going smoothly and all your vendors are in place. Your timeline has been drawn and the planner states everything is going according to schedule. Nonetheless, in the back of your mind you feel like there's still something you've forgotten. Here's a list of twenty tips we have collected, through our years as wedding photographers, that might help make your wedding day proceed smoothly.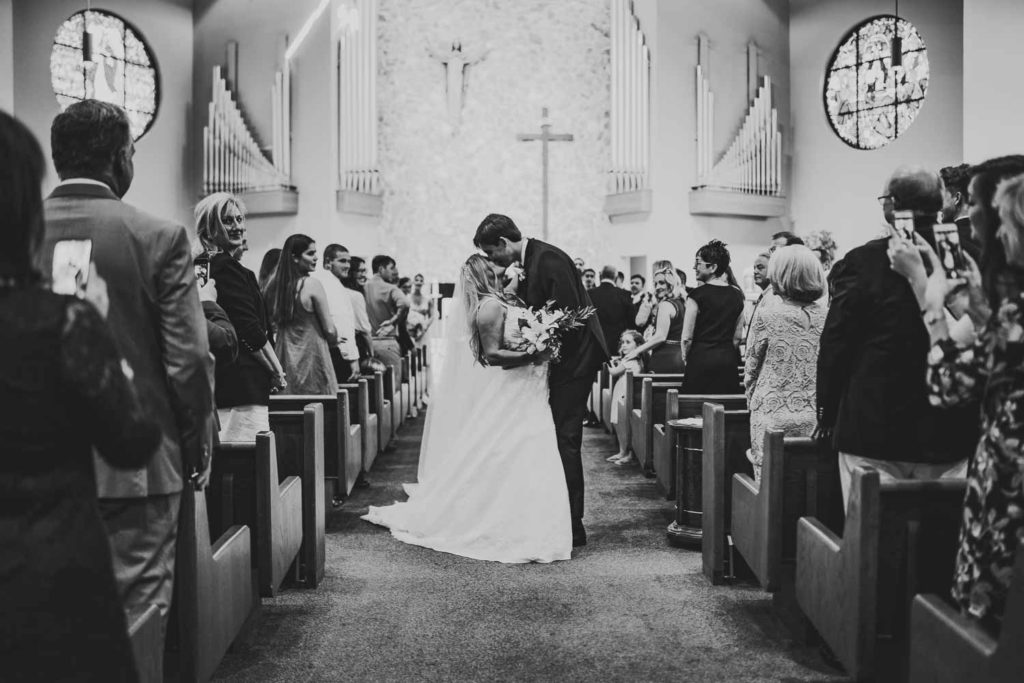 You Shall Not Pass: Many churches and venues have restrictions on where vendors can be during the ceremony. Make sure to check with your venue to get a clear idea of what is and isn't allowed. If they don't allow your photographers near the altar, there's probably not going to be a lot of photos near the altar. Set your expectations accordingly.
Have a Family Formal Shoot List: Depending on your family, family formals could be the most stressful part of your day. Having a list of all the formal photos you want with the names of the family members needed in each shot makes the whole process go much quicker. We recommend starting with the largest groups and dismissing those family to cocktail hour as soon as they are finished. Your planner might appreciate having a copy of this list so they can help to get the next group ready while the current group is being photographed. We provide a template shoot list for every couple at our consultation to assist in this process.
Enjoy Sun Screen: If you normally wear a watch or a fitness band and you don't plan on wearing them on your wedding day, consider alternating the arm for the band or simply put the band away for a few weeks so the tan line fades before the wedding.
Even Batman Has a Utility Kit: Have a tool kit available with safety pins, wipes, scissors, body tape and stain eraser pens. You never know when there might be a wardrobe malfunction. Always best to be prepared!
Water Makes the World Go Round: Make sure your caterer and venue verify with each other who's responsible for the water/coffee/lemonade/tea for those who do not drink alcohol. We were involved in a wedding in which the venue and caterer each thought the other company was providing the non-alcoholic beverages and neither brought them. As a result, the donuts had no coffee and there was only beer, wine and water available to the guests. Even if everyone attending drinks alcohol, it's best to have other beverages available to keep your guests hydrated.
Get Hungry: Have your caterer or family provide some snacks and beverages for you directly after the ceremony. Many couples are too nervous to eat and drink a lot before the ceremony. As soon as the ceremony is over, when the weight is suddenly lifted off their shoulders, they suddenly realize how hungry and thirsty they've become. Many couples also schedule their couples photo session between the ceremony and reception leaving them precious little time, and it may have been an hour or two since they have had anything to drink. We keep bottled water on us in case this happens, but not every photographer considers this.
Sunset in Your Time Line: Depending on your ceremony time, considers scheduling a moment in your wedding timeline for sunset photos. That will likely be when the light is the most flattering for photographs.
Your Dress Deserves a Little Bling Too: Most wedding dresses come with a plastic or wire hanger, which doesn't photograph well and doesn't look very pretty. Purchase a nice wood or felt hanger to replace it and make your dress pop while it's hung up. Some couples even purchase a customized hanger with their names and special date on it!
It's as Hot as Mount Doom: We live in Florida. The humidity here guarantees we will sweat buckets when we are outside. If your groom (or bride!) can get a little too shiny in the sunshine, consider getting them a personalized hand towel on Etsy or something similar that they can keep in their back pocket so they can pat themselves dry throughout the day.
If You Don't Say It, No One Knows: Many couples have surprises for their family that they want to keep secret, such as a special dance dedicated to their grandparents or a special moment set aside for a sister with their father or a brother to their mother. Let your vendors know ahead of time so they can plan for it accordingly. If your vendors don't know it's happening, they can't be prepared with cameras, video equipment, special music or whatever else is needed to make the moment happen. Let them know and trust that your secret will be
1-3 Weeks Before Wedding Day
Bling Bling: During your engagement, your engagement ring has seen everything under the sun. Dirt, grime, makeup, meatloaf, hair and more! For your wedding and engagement photoshoots, your ring will be getting photographed VERY CLOSE UP. The macro camera lenses do not lie. You want to make sure the engagement ring has been cleaned, trust us.
Heels, Heels, Heels: If you plan on wearing heels on your wedding day, consider keeping a pair of flats or flip flops nearby. This way you can change from the heels to more comfortable footwear during dancing and the rest of the night. Your feet will thank you when you are walking around mingling with your guests and dancing the night away blister-free.
Practice Makes Perfect: Practice your dance with your future spouse to ensure that first dance goes smoothly, some couples even take dancing lessons to wow their guests! If you want a photo with a dramatic dip, make sure you practice that a few times as well!
Measure Twice, Cut Once: Test fit your dress one last time a week or 2 before the wedding. If your dress has a bustle, have your bridal party, or whoever is in charge of helping with that, practice to ensure everyone knows how it comes together. Some bustles can be very complicated!
Eeny, Meeny, Miny, Moe: If you have a dress train or otherwise fairly long gown, speak to your wedding party and make sure you have volunteers to help you keep the dress straight and help you hold the dress up while you traverse outside of the ceremony site. We try to help when we can but having a wedding party member assist can really make life easier for everyone (shout out John Carroll, Best Best Man.) A lot of coordinators also offer it as part of their services, but it helps to determine that before the wedding.
Thank You Cards: If you plan on sending a thank you card to your guests, you might want to bring a thank you sign to the reception. Your photographer to grab a photo of you holding the sign at the end of the night. This way you have a photo ready that can be used for thank you cards.
First We Eat, Then We Do Everything Else: Make sure both the groom and the bride have a meal during preparations. The last thing you'll want is someone HANGRY at the altar!
It's Potty Break Time: Use the restroom before getting into the dress. Also, make sure the bridal party gets a chance to use the bathroom as well before the ceremony. You don't want your groomsman doing the pee-pee dance at the alter while you say your vows.
Feed Me Seymour: If your vendors have meal stipulation in their contract, or if you simply feel generous and want to feed them, arrange for them to get their meal right after the bridal party. This way the vendors are on the same timeline and will finish eating at the same time as you and they can be ready to go again as soon as you are. Having the vendors go last means they are either going to be too busy eating as the next event happens, or they are unable to eat because the next event is happening, causing them to not be able to perform up to par. No one likes to work hungry!
Electrolytes, It's What Plants Crave: Have an open bar? Consider keeping some Gatorade or other sports drinks at your hotel room or wherever you are going the night of the wedding to help with replenishing lost fluids. Take care of yourselves! You definitely don't want a hangover kick off your honeymoon.
Do you have your own tips based on your experience? Post them in the comments or shoot us an email so we can add them!